How to Make Texas Roadhouse Cheese Fries
lazyme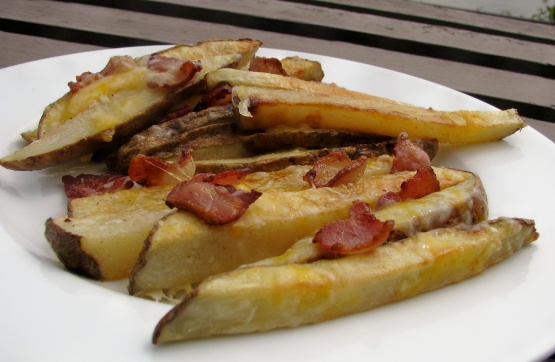 With this Texas Roadhouse Cheese Fries recipe, you can create the restaurant's gooey, warm appetizer that strikes fear into dieters everywhere. Topped with freshly cooked bacon, this dish is hard to resist and almost impossible to merely sample. There is no need to visit the restaurant to enjoy this appetizer as it can be easily prepared at home. You can prepare Texas Roadhouse Cheese Fries as an appetizer or main meal. While these cheese fries can be refrigerated, they do not heat up well, so it is best to prepare the quantity that you plan on eating at one time.
These were so good! The only things I did different was use OreIda crinkle cut fries and baked as directed, and used 1 cup shard cheddar and 1 cup mild cheddar instead of all sharp cheddar. They turned out so good! I will definitely be making them again.
Preheat the oven to 450°F.
Cook bacon in a medium-sized frying pan oven medium-high heat.
Take out bacon when crisp and put on a paper towel to dry.
Pour bacon grease into a bowl and allow to cool slightly.
Add garlic salt, onion powder, and seasoned salt to the grease and stir to mix. Set aside.
Arrange the fries on a greased baking sheet and bake for 10 to 15 minutes or until slightly golden.
Set oven to broil.
Brush the bacon oil an seasoning mix onto each fry.
Place fries in an oven-safe bowl. Spread the cheddar cheese over the fries.
Crumble bacon slices, then sprinkle over cheese.
Place dish in oven for about 5 minutes, or until the cheese is bubbly.
Remove from the oven and allow to sit for a few minutes, then serve.