gemini08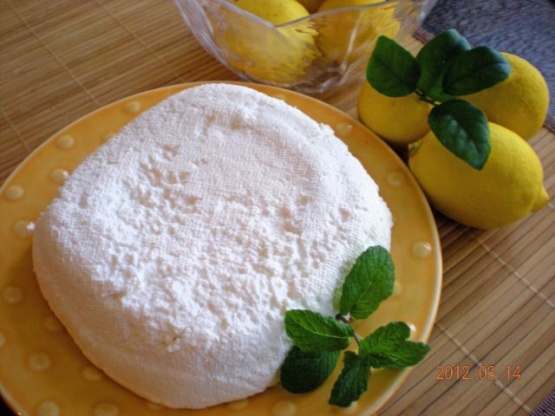 Quark is not easily available in most non German countries, and it cannot really substituted by ricotta or creamcheese. But then it's not really difficult to make. This is the way we made it at my friend's house in a tiny village in the Black Forest where I spent my summer vacations when I was 13. 1 litre (1 1/8 quart) milk makes about 300 - 350 g (ca. 8 - 12 ounces) quark.

What a great recipe, and sooo easy to make! Our local German Deli only sells Quark at Christmas so I was looking for an authentic recipe for Quark, called Topfen in Austria, which is a staple in Austrian cooking. I started with one gallon of Milk and added the juce of one small lemon, than let it do it's work over night. I followed the instructions for warming the milk, using a thermometer. The final product is a silky smooth, wonderfully creamy quark that tastes slightly tangy. I can't wait to use it in a recipe! Thanks, Mia, for posting! Made and reviewed for the "Not only Sauerkraut and Dumpling" event.
UPDATE:
Since my last review I got interested in cheese making. I bought the book 'Artisan Cheese Making At Home" by Mary Karlin and learned a few important things:
Do NOT use ULTRA - PASTEURIZED milk or cream, it will not work! Pasteurized and homogenized milk can be used but it needs more acid or calcium chloride (available on line - www.cheesemaking.com) for the milk to properly separate into curds. This goes also for yoghurt, ricotta and other cultured milk products.
Fill the milk into a bowl, stir in the lemon juice and let stand on the kitchen counter overnight, about 16 hours.
After 16 hours, it should have turned into soured milk.
Slowly heat the soured milk to no more than 122° F (50° C) until the whey starts to seperate from the solids.
Let cool and pour into a sieve lined with a cheesecloth.
Let drip for 12 hours, then press out any remaining liquid and strain the quark through a sive (it get smoother then).