ChefLee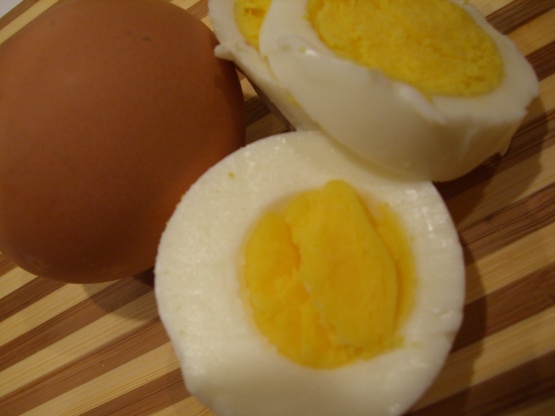 This is the best method to use when making Deviled Eggs for the holidays - or any other time! From Mr. Breakfast: Note: Extremely fresh eggs are not recommended when making hard-boiled eggs. They are very difficult to peel. This is the best use for eggs nearing their expiration date.

Top Review by megs_
I agree with Lyceum, I can never remember how to hard boil eggs! I wanted to have hard boiled eggs ready for salads for lunch and so I looked up this recipe this morning and honestly, this was the best hard-boiled egg recipe ever! It was easy to follow AND the eggs came out easy to peel, yummy, and perfect. Thanks so much for sharing.
Use eggs nearing their expiration date.
Remove desired number of eggs from the refrigerator and let them sit at room temperature for 15 minutes.
Place eggs in a small sauce pan and add just enough water to completely cover eggs. (Note: the smaller the pan; the less room the eggs have to jump around and crack into each other).
Bring the water to a rolling boil. Covering the pan will lead to a quicker boil and is recommended.
Immediately reduce heat to simmer and remove the cover from the pan.
Let the eggs sit in the simmering water for 12 minutes. (11 minutes for medium eggs; 13 minutes extra-large eggs).
Carefully remove the pan from the stove top and place beneath the kitchen faucet. Run cool water into the pan for a minute until the water is cool to the touch. Give each egg a little whack to the side of the pan, so each egg has one or two cracks. Some will tell you that this lets pent-up sulphur escape. More practically, this allows a little steam to build between the cooked egg and its shell to make peeling easier. Let the eggs sit in the cool water for 2 to 5 minutes.
To peel the Mr Breakfast way: Place hard-boiled egg on a hard surface such as a cutting board. Roll the egg back and forth - applying a very slight amount of pressure. Remove the cracked shell beneath a faucet of cool running water.
If peeling multiple eggs, place peeled eggs in a bowl of cold water while you work the others. Refrigerating peeled eggs is not recommended. Hard-boiled eggs - still in their shell - can be stored in a refrigerator for 5 days.