Dawnab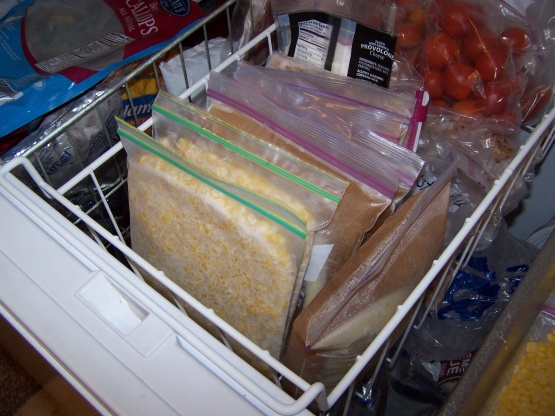 I developed this way to freeze corn when other methods came out watery, mushy or tasteless. The butter puts a seal around the kernels the lets it keep crunch and the flavor in. I do about 2-3 batches per year and it keeps me through to next season. Number of ears will vary depending on size.

I do, and have done A LOT of canning, freezing, and dehydrating of any and all fruits and veggies I can get a hold of, and I must say that this is by far the easiest and the best technique I have ever used! Just a suggestion; while allowing the corn to cool and dry, place a hand towel into a bowl, then place a colander on top of the hand towel inside the bowl... then put the cooked corn in standing on end to allow the water to run down and thru the colander slots. The cobs seemed to dry and cool much faster that way. Other than that, this is fantastic! I used this same method last year and the frozen corn we had tonight tasted the same as that in the bowl that I was currently working on! Thank you so much for sharing!
Bring water and salt to a slow boil, cook corn in batches, boiling for 4 minutes each batch.
Transfer cooked ears to a dish towel, allow to drain and cool until easily handled (this is how you keep the corn from being too watery).
Using an angel food cake pan, place ear on center and begin cutting kernels off so they fall into the pan. Then angle knife slightly to get the small bits out of the ears. Repeat until pan is full or all ears are cut.
Pour butter over kernels and mix well (this gives each kernel its own seal).
Put about 2 cups of corn into individual bags. Squeeze all the air out, seal then push to flatten each bag.
Freeze flat on a cookie sheet to keep each bag flat, then stack to store in freezer.
Corn will be good for up to a year, to use, defrost in the microwave and serve.