How Scallops are Supposed to Be Made
mikey ev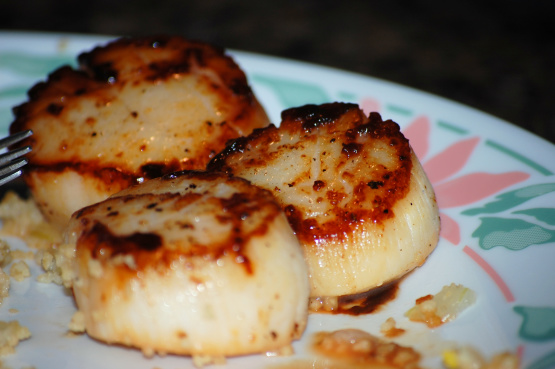 Scallops don't need sauces or breading to be perfect. This method is fast, easy, healthy, and most of all, delicious! I love these scallops with some couscous or a simple pasta with olive oil, Parmesan, and basil/oregano. Enjoy!

Top Review by jrusk
Perfect cooking technique and timing. I sprinkled a little old bay on mine due to religious beliefs ...hahaha. For presentation I put the lemon on the side so the browned sides didn't loose their beautiful color. Yum these were so perfect.
Preheat a large skillet over med-high to high heat; add oil.
Pat down scallops with a paper towel to remove excess moisture.
Sprinkle salt and pepper over one side of the scallops.
Place scallops (seasoned side down) on the hot skillet.
Do not touch, move, or tinker with the scallops at all.
Sprinkle salt and pepper over the other side of the scallops.
Cook scallops 3 to 5 minutes (depending on thickness) on each side or until caramel in color.
Squeeze the lemon juice over the pan.