Houlihan's Baked Potato Soup Copycat
Parsley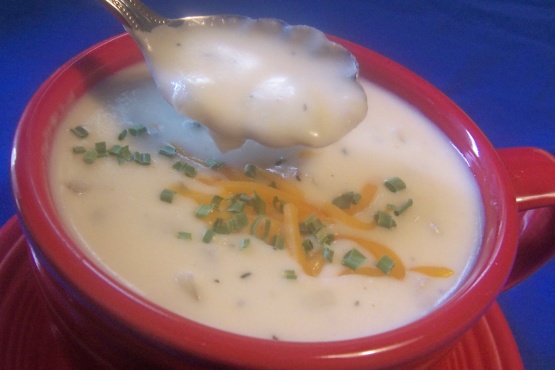 Copy Cat Recipe. I received a ton from my mom.. Here's another...I haven't adjusted anything :O) On some I had to guess on the time and servings if I haven't tried them.
I am a HUGE fan of Houlihans Baked Potato soup so I was really excited to make this recipe. For the beginners out there 1quart=4cups & 1/4 lb. butter = 1 stick. For the bullion I dissolved 2 cubes in 1 3/4c H2O, then subtracted that from the 4cups (1qt) called for. I also only used 1/2 the onion called for and it turned out just perfect for my taste. We added crumbled bacon & chedder cheese to the top. YUMMY!!!
Saute onions in melted butter for 10 minutes in large kettle. Add flour to onions and butter and cook for four to five minutes, stirring until flour is absorbed.
In a separate container, combine water, chicken bouillon, potato flakes, and seasonings. Stir until thoroughly mixed and no lumps remain. Add to onion mixture, one pint at a time.
Add milk and cream, stirring until smooth and lightly thickened. Reduce heat and simmer for 15 minutes.
In a separate container, the potatoes should be covered with water, brought to a boil, and simmered for 20 minutes.
Combine the potatoes with the soup to complete.