Bayhill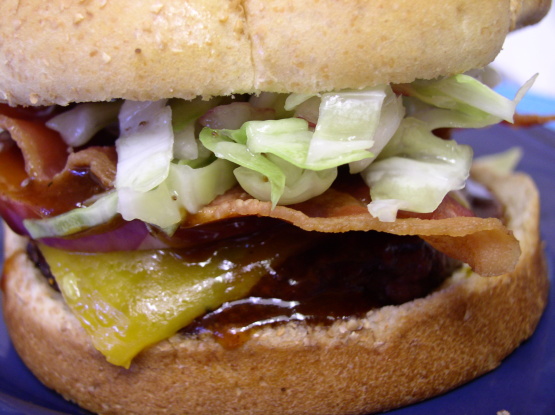 Serve these to your guests and watch them disappear! This recipe was created by the Hot Plate Houdinis for Zaar World Tour III. The challenge was to create a burger representative of one of the regions of the United States. Since Houdini was from the Midwest, we developed this burger, which celebrates the barbecue styles of Missouri, both St. Louis and Kansas City.

I just made these for ZWT3- I chose this recipe because I lived in Missouri for 8 years and I adore coleslaw on pulled pork and figured it would be great on a burger. I used Kansas City Cowtown BBQ sauce my sister brought me, and I used Weber Sweet and Spicy BBQ seasoning. Thanks for the great recipe!
Prepare slaw dressing by whisking together vinegar, oil, sugar, salt, and celery seeds.
Combine dressing with cabbage and onion and mix well.
Combine barbecue sauce with a splash of beer. Enjoy the rest of your beer while you cook.
Divide beef into four patties. Season to taste with KC Masterpiece BBQ seasoning.
Grill burgers to desired doneness.
To assemble, place each burger on the bottom half of a bun. Top with cheese, if using, barbecue sauce mixture, bacon, and coleslaw mixture. Add top half of the bun.
Enjoy!