Bergy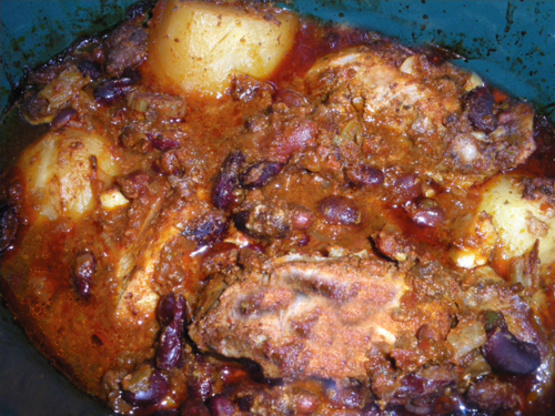 This is an easy Crock Pot recipe. It isn't pretty but it sure has great flavor. If you like less spice use mild Chili and cut back on the chili flakes.

I made this for dinner last night and we loved it! I used pork blade steak because that's all I could get. The recipe didn't say if the potatoes were cut up or not so I just cut them in half because they were on the small side. They didn't get quite done so next time I'll quarter them. Other than that minor detail, this was "da bomb" as one of the roomies said. Definately a keeper. Good luck in the contest.
Mix all the ingredients except the potatoes and ribs together.
Place the potatoes in the crockpot.
Top with the ribs.
Pour in the chili mixture over the ribs & potatoes.
Turn on low for 6- 7 hours.
If you wish you may do this on High for an hour an 4-5 hours on low.
Enjoy (I hope).