flower7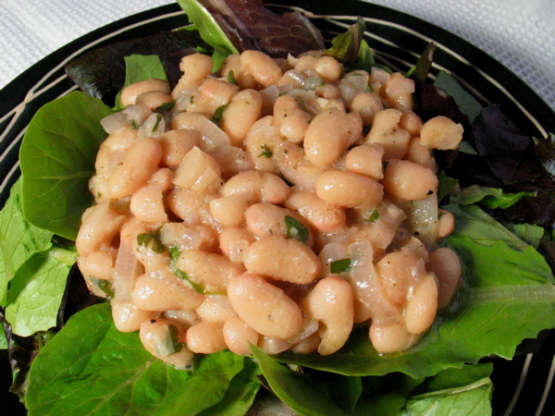 A great side of beans, or serve as a salad on top lettuce. Pol Martin Cookbook.

This was outrageously tasty! I made a couple minor changes - used red wine vinegar (didn't have white) and cut the oil to about 3.5 Tbsp. Used lots of pepper and just a pinch of salt. This was very juicy but I served it over a big pile of lettuce, so it provided the dressing for the lettuce. As a dinner salad this made two servings for me, not four. I did use canned beans (1 can). This is a definite keeper. Thanks for posting!
heat butter in saucepan over medium heat, add shallots and garlic, cook for 2 minutes.
add beans and parsley, season with salt and black pepper and cook for 4 minutes over low heat, stirring occasionally.
transfer contents of saucepan to a bowl.
place vinegar and mustard in another bowl, and mix well. pour in olive oil and incorporate with whisk.
pour vinaigrette over beans, mix and serve.