Hot Tuna and Cheddar Sammies/Sandwiches
twissis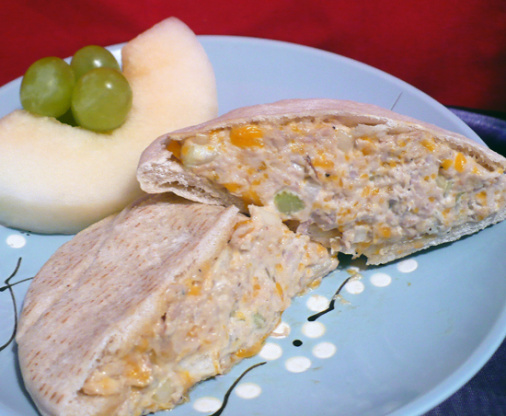 Simple, yummy comfort food that's easy on the pocketbook! Just right for a quick anytime lunch. Make it healthier by using low fat cheese and mayo. Choose the amount of mayo you want. I tend to like my tuna mixture creamy, so I add the full 1/2 cup.

My DH loves tuna salad! I make it just like this recipe & add diced hard-boiled egg + a bit of sweet pickle relish. Except for using pita bread vs hamb buns, I made this exactly as written & then tried an experiment w/him. I held out 1 of the stuffed pockets & baked the rest. Then I gave him the cold 1 & he devoured it w/greed. Next I gave him 2 of the baked ones & he said *This is so much better* ! His reaction goes to the heart of your recipe & I agreed w/him. It is better if baked to melt the cheddar & allow that flavor to intensify. Made for the *Pet Parade* event & thx for sharing your recipe w/us. ~ *Edited to Add Re the Mayo Amt* ~ 1/4 cup was too little & the tuna mix dry, but I felt 1/2 cup would be too much. So I used 1/3 cup & it was perfect for us. :-)
Preheat oven to 350*.
In a large bowl, combine tuna, celery, onion, cheese, olives, mayo and pepper.
Divide tuna mixture evenly among 4 buns.
Wrap sandwiches loosely in aluminum foil.
Place on baking sheet.
Bake 15-20 minutes or until heated through.