Prep 15 mins
Cook 15 mins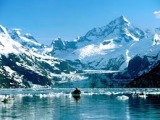 A nice, warm dip to serve for parties! You could serve this with a variety of crackers, breads or veggies. The recipe is from Rachael Ray.
Directions
Preheat your oven to 400 degrees F.
Brown the chopped bacon in a nonstick skillet over medium-high heat. Drain the crisp bacon bits on some paper towels.
In a bowl, combine the softened cream cheese, mayo, Dijon, Swiss cheese and chopped scallions with the cooked bacon.
Transfer this mixture to a shallow, small casserole or baking dish and bake until golden and bubbly at the edges - about 15 to 18 minutes.
Top with the chopped almonds and serve!
Reviews
Most Helpful
Oh boy, I knew I would love this dip. Loved the combination of cheeses, bacon and scallions. I made 1/4 of the recipe and had to use sliced almonds, what I had on hand, which I added them from the beginning of the baking, so they then were toasted. I served it with Ritz crackers for a great lunch. Thanks for sharing the recipe. Made for Photo Tag Game.
Made just half a recipe as it was kind of a test-run to see if it might be something I'd want to make for one of the groups I host each month, & believe me, it's now on schedule! This is a wonderfully tasty dip that will be a big hit, I just know it will! Many thanks for a great recipe keeper! [Tagged & made in Please Review My Recipe]
Wonderfully easy and quick to make, with great flavour.
A great dip recipe-thanks.
Made for AUS/NZ Recipe Swap #59.