Dwynnie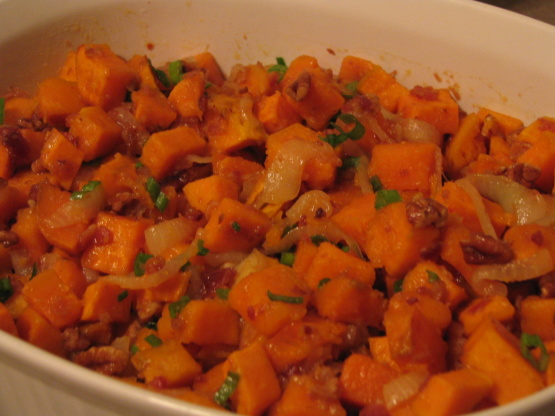 Looking to use sweet potatoes in something other than a casserole? Try this interesting twist in potato salad recipes that begins by roasting the sweet potatoes.... For ZWT classification, please use the West for the sweet potato crops grown in Hawaii.
Delicious! The creamy sweet potato with the crunchy bacon and tart dressing...perfection! I probably wouldn't have picked this recipe to try but a friend did and I'm so happy about it. I'm going to want more soon. Yum.
Preheat oven to 425.
Toss sweet potatoes with sugar, oil, salt, and red pepper flakes.
Roast 25-30 minutes.
While potatoes are roasting, saute bacon in a skillet over medium heat until crisp.
Pour off fat, leaving bacon in pan.
Add onions and saute 3 minutes.
Add jelly and vinegar, stirring until jelly melts.
Remove sweet potatoes from oven and put in large bowl.
Add bacon mixture, pecans, lime juice, and scallions to potatoes and toss.
Season with salt.