A Good Thing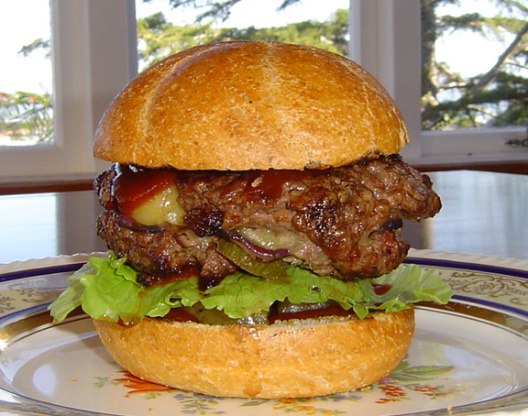 We're talking a great-tasting burger!!!! HOT STUFFED!!! That's right...the fantastic flavors are both inside and out on this Good' Lookin' Burger!! This is truly a taste of the American West---the sweetness of Hawaiian pineapple, the bite of the California green chiles and the aroma of Walla Walla onions! WhoooooWeeeee you're gonna love it!!! Created by the Good Lookin' Cookin' Mamas for the Zaar World Tour III!

This is a really tasty combination. I used just half the amount of beef and I just mixed in the ingredients rather than stuffing them into the middle. I look forward to having them again!
Prepare your onions ahead of time and have them cooled.
Mix beef with steak seasoning and garlic. Shape into 8 very thin patties.
On top of 4 patties, place 1 slice cheese, and 1/4 of onions and green chiles (there will be leftovers chiles).
Top with remaining 4 patties, sealing edges well to create 4 fat, hot stuffed burgers.
Grill burgers to desired doneness.
Meanwhile, also grill pineapple slices until black char marks appear.
Spread butter or margarine lightly on kaiser rolls, and grill until slightly toasted.
Assemble burgers by slathering on teriyaki sauce on each roll. Add one pineapple slice and lettuce leaf; top with one burger.
Serve with additional teriyaki sauce for dipping! ENJOY!