Hot Stuffed Cremini Mushrooms
Nimz1466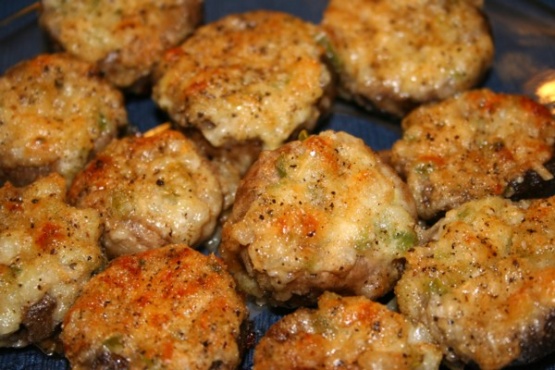 This is a little something I borrowed from a friend and modified to suit my own tastes. Has been a huge hit with my vegetarian friends. Quick and easy! Give it a try for your next party or movie night! A bit of a hint... save those stems and keep them in the freezer. They're great to toss into the pot when making stock or broth.

Tasty! I had about 8 oz of cremini mushrooms, but I'm afraid they were too small. I used them, but had to run out and get extra mushrooms. To top that off, we ended up with excess in terms of the butter mixture--no need to worry, as I can use that tomorrow on baked potatoes! Thanks for posting, Cynna!
Preheat oven to 400 degrees.
Mix jalapeno, onion, garlic, and 1/4 cup parm into butter.
Place caps on a bake sheet and season to taste w salt/pepper.
Fill caps with butter mixture.
Sprinkle remaining 1/4 parm over all the caps.
Sprinkle 1/4 of bread crumbs over the parm coated caps.
Bake for 15 minutes or until mushrooms give up juices.
Broil to crisp up topping if not to satisfaction.
Serve and Enjoy!