Hot Stuffed Cherry Peppers
Bergy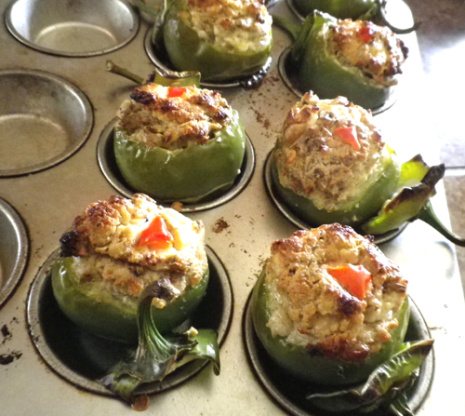 Some like it hot, some not so hot! These little (about 2 1/2" x 1 1/2" high) red peppers are just right for medium hot. They look lovely on your plate. I served them with broccoli. cauliflower, browned potatoes and lamb chops. They also come as green cherry tomatoes and are great served as an appetizeer - perhaps only an inch across & an inch high - The green ones i found were hotter than the red!

I made these with sour cream. They were medium hot, just as promised, and made for a pretty dish. The heat of the peppers themselves somewhat overwhelmed the more subtle flavor of the filing, but I did enjoy the strong pepper flavor of the roasted peppers. I would like to try them again, using cottage cheese the next time.
Cut the top off the peppers and remove the membranes and seeds.
Sauté the onion, garlic and mushrooms on a non stick skillet (use a bit of oil if you wish but not necessary) about 4 minutes. Sprinkle in the oregano.
Sprinkle with the Worcestershire sauce and remove.
Stuff the peppers with this filling.
Top with a tsp of cottage cheese (or other).
Sprinkle with a little parsley.
Bake for 30 minutes around 350°F and serve.