Parsley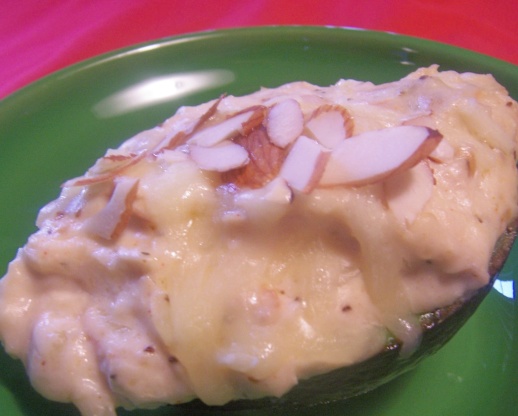 Creamy chicken in avocado topped with cheese.

Sublime!!! I actually made it as a meal, instead of an appetizer, and enjoyed it even more! It is very rich, and justifiably addictive, so the next time I make it, I am going to carve out half the avocado and add more chicken mix to the hollow centers just so I don't feel so guilty about eating it. I didn't add the flour, and only used 1/4 cup of cream, and it still tasted divine. Thanks KelBel!
Slice avocado in half and remove pit.
Put halves in large baking pan. Sprinkle each with lemon juice and garlic powder.
In small saute pan, melt butter; add shallot, celery salt and pepper. Cook 3 minutes. Whisk in flour.
Add cream. Cook while stirring until thickened. Fold in chicken and 1/4 cup cheese.
Stuff each avocado with half of mixture, top each with remaining cheese and almonds and bake at 350 degrees for 15 minutes.