Hot & Sticky Chicken Drumsticks
jrusk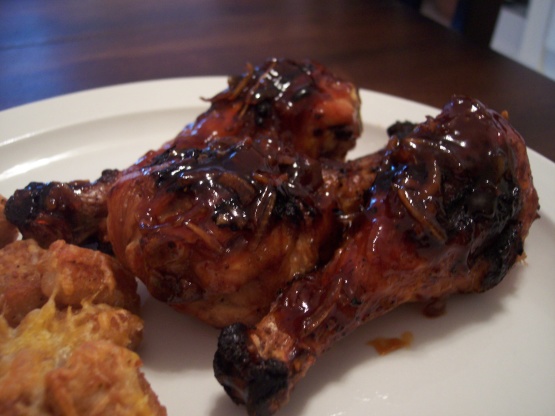 Easy, spicy chicken legs.

This was really good! I wanted to use straight Tobasco for the hot sauce but didn't have enough so I debated between Franks 'Extra Hot' Hot Sauce and Sriracha. I really didn't want the dish to end up tasting like anything "Buffalo" but that's what I ended up using. I also reduced the onion soup to about 1/2 to 3/4 envelope and used chicken thighs. The thighs came out nice and sticky with a good glaze and crispy flavorful skin. The combination of ingredients helped to tame the Buffalo-ness and what were left with was very flavorful and spicy hot. Next time I may marinate for a few hours in the sauce just to get more flavor throughout the meat. Great main dish that is economical and fast! It's a keeper. Thanks for sharing!
Either marinade & bake or grill chicken over low heat. If grilling, while they are cooking, heat all ingredients in saucepan. When drumsticks are fully cooked and the skin is crispy, toss them with the heated sauce and serve immediately.