Debbwl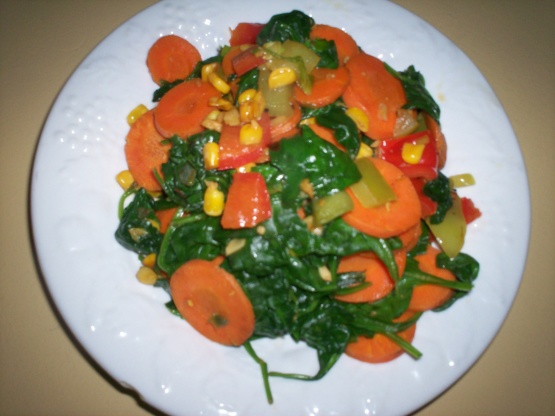 Spinach - great for eyes, right up there with carrots!

Top Review by Debbwl
Wonderful mix of veggies. Love how healthy this is and that it does not taste anything at all like a raw spinach salad. Also like the way the orange of the carrots and the yellow of the corn looked amongst the dark green of the spinach. The red pepper flakes and corn add a wonderful balance of sweet and hot to this salad. Made as written. Will be making again. Thanks so much for the post.
Generousley spray a large non stick frypan or wok.
Heat frypan to medium high, reduce heat and add thinly sliced carrots, green onion, corn and sweet peppers; sprinkle salt and red pepper flakes over; saute veggies until tender crisp, about 5 minutes.
Add garlic; saute another minute.
Wash and drain, spinach, add to the veggies in the frypan, toss to mix thouroughly. Saute a further 5 minutes, tossing to mix until the spinach is well wilted.
Serve Hot.