Hot Spinach and Artichoke Dip (Lower-Than-Normal-Fat)
megs_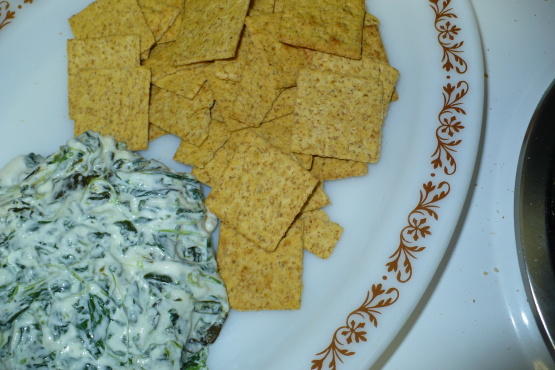 Made with lower fat ingredients. Thicker texture (not runny). Dip freezes well. If you haven't tried this type of dip yet, you don't know what you're missing! Cook time is for microwave.

This was soooo good. I served it with torilla chips and some toasted sourdough rounds. I didn't have the chilil pepper flakes and it was still very good. This was a big hit and I will be making it again. Thanks for the great recipe!
Drain any liquid that may be sitting on top of the sour cream.
Mix everything together well.
Bake it at 350 degrees, stirring once or twice, until heated through (probably 40 minutes).
If lazy, hungry, or just plain impatient, use the microwave (takes only a few minutes). This mix freezes well. There is no need to bake before freezing. You may want to freeze this recipe in four 2-cup containers (i. e. large plastic sour cream tubs)
Serve with tortilla chips or pita.