Hot Spicy Skillet Chicken
rpgaymer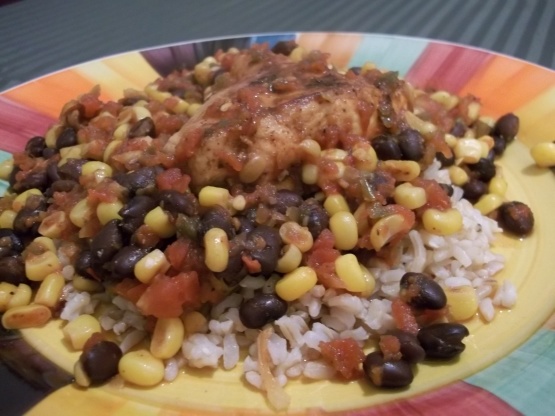 A slight spin on a popular favorite.

Top Review by awalde
Fast and tasty meal.
I used fresh salsa with red bell peppers and chili. I finished my dried garlic so used some chopped fresh one.
I topped the chickien with some green onion.
In 25 minutes everything was ready and the chicken was moist and tender.
Thanks a lot for this easy and yummi menu.
In a small bowl combine chili powder, garlic powder, salt, and pepper. Sprinkle evenly over chicken breasts.
In skillet heat oil over medium heat. Add chicken and cook for 6 to 8 minutes until juices run clear.
Stir in beans, corn, and salsa. Heat to boiling. Cover and simmer 5 minutes or until heated through and thickened.
Serve over rice. Top with cheese, if desired, and garnish with cilantro.