Boomette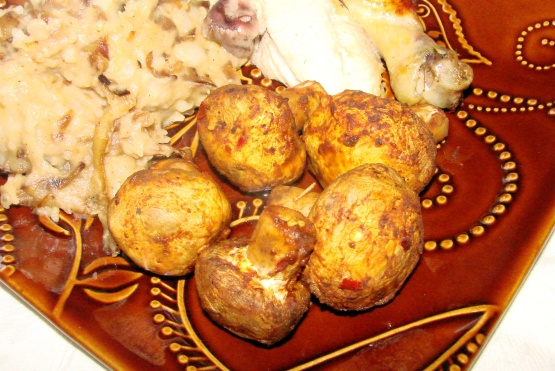 I bought too many mushrooms, and even though I love mushrooms plain, I wanted to do something more interesting with them... I just tossed in most of the "hot" spices I could find! The first bite wasn't too bad -- but by the time I was done, I definitely could feel the fire.
These mushrooms are very easy to do. I mixed them all in a bowl with the other ingredients. I didn't want to waste a bag. These mushrooms are so spicy. I had problems to ate them all. They were better cold. Less spicy that way but believe me it was still spicy enough. My boyfriend loved them. He likes spicy food a lot. I didn't have cayenne pepper sauce so I used a mexican hot sauce. Thanks Brokenburner :) Made for PAC spring 2010
Preheat the oven to 400.
Combine all of the ingredients except for the mushrooms in a plastic freezer bag and mix to combine.
Dump the mushrooms into the bag and turn to make sure all of the mushrooms are evenly coated. (If you want it hotter, you can cut the mushrooms in halves or quarters to give you a greater surface area for the spices.).
Pour the mushrooms (along with the remaining spice mixture) into a pan lined with foil. (I used an 8" loaf pan.).
Bake for 20 minutes, or until mushrooms start releasing liquid, stirring once or twice.