Annacia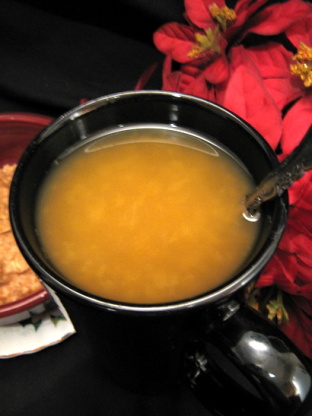 This is great when sick with colds, sore throats and even the flu but it is something my daughter and I like during the fall & winter months.

Yum! Hot spiced tea is so wonderful for these cold Wisconsin mornings. I am an avid tea collector, so I used a mix of some of my favorite flavors of tea, an orange blossom, cinnamon, and earl grey. I only used 3/4 cup of sugar too. I'd like to add some pineapple juice too. Made and Reviewed for Bargain Basement tag - Thanks! :)
In large pot bring water, sugar, spices and tea bags to a boil.
Remove from heat and allow to sit 15 minutes.
Remove tea bags and spices, add orange& lemon juice.
Serve hot.
It makes close to a gallon so I refrigerate and heat a cup at a time.
Enjoy and I hope you feel better soon.