Hot Sausage and Vegetable Breakfast Casserole
Bayhill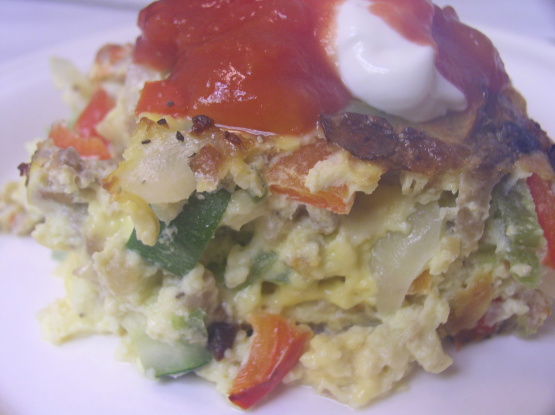 Imho, you can't have enough recipes for breakfast casseroles! Especially when they are equally yummy for dinner. This recipe was adopted for Recipezaar.

Delicious! Followed the directions exactly using American cheese and savored every mouthful. I have actually made this several times and neglected to review it! Will make many more times too!
Preheat oven to 350 degrees F.
Cook sausage.
Drain grease and set aside to cool slightly.
In a large, deep baking dish (we use 9 X 13 baking pan) add sausage, eggs, sour cream, onion, peppers, zucchini, mushrooms and cheese.
Stir very well to mix thoroughly.
Salt and pepper to taste.
Bake for 1 hour or until golden brown and eggs are set.