Hot Salami Chicken Stroganoff
ImPat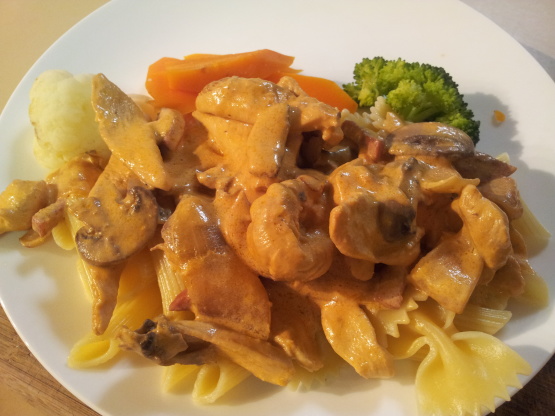 This is a stroganoff with a slight twist. Don't be too afraid of using hot salami as the sour cream does take a lot of the bite out of it
My whole family love this recipe. I added some hot pepper sauce which just pepped it up for me. My kids aren't great lovers of green veg, so adding a cup of peas to the dish was perfect way to get them to eat some! and it added some colour. I have served this with Farfalle pasta and egg noodles, both worked well, but the noodles got the thumbs up from my brood!<br/>So if you want something tasty that is quick and easy to prepare, you really cant go wrong with this dish!
Saute onions and garlic in a large frypan until brown. Add mushrooms and salami to the pan with the chicken strips.
Cook for 6-8 mins and add tomato paste, simmer for 2 minutes.
Turn heat to low and stir in sour cream, simmer for another 2 minutes.
Season with ground pepper and serve over rice or noodles.