Debbwl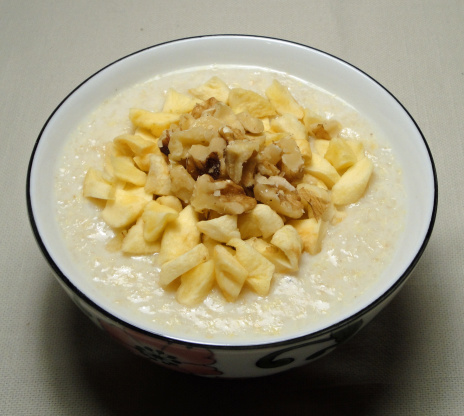 A great alternative to oatmeal in the morning, quinoa's protein is of an unusually high quality. It is a complete protein, with an essential amino acid balance close to the ideal. So it makes the perfect breakfast food! I got the idea for this dish from: http://www.celiacteen.com/2010/chai-infused-quinoa-flakes/
1⁄3 cup quinoa flakes

1

tablespoon honey or 1 tablespoon maple syrup or 1 tablespoon agave nectar
1⁄4 cup dried fruit

2

tablespoons nuts, chopped
Combine quinoa flakes with liquid of your choice in a 2 - 2 1/2 cup microwaveable bowl -- I used a combination of rice milk and coconut milk the first time I made this.
Microwave for 2 1/2 mins watching closely so it doesn't boil over. Use a larger bowl if you want to avoid a potential mess.
Add in dried fruit, nuts, and sweetener (honey, agave nectar, maple syrup, sugar).
Let stand for a few minutes or until it's at a temperature you can comfortably consume it without burning your mouth!