Hot Pepper Peach Preserves Cheese Ball
myslys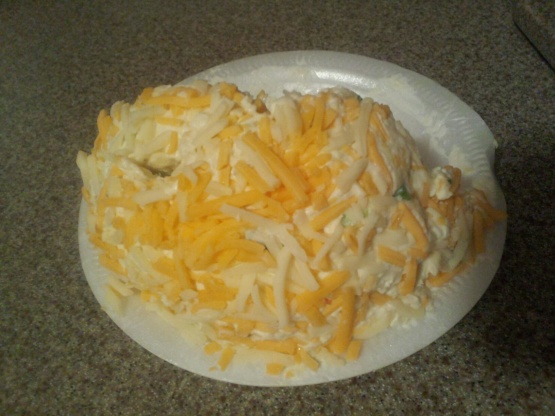 This is a deceptive cheese ball! On the outside it appears to be a fluffy white snow ball - but on the inside is a lovely combination of creamy cheese, sweet-but-spicy hot pepper peach preserves, pungent onion and firey jalapeno. The recipe is a staple on New Years Eve at my friend Annette G's house and comes from Robert Rothchild Farm gourmet foods. They make a mean Hot Pepper Peach Preserves! Estimated time includes chilling time.

Really lovely recipe! I like to make a little appy for DH and I to munch on during the Sunday football game watching and a few weeks back I made up a store-bought cheeseball mix that tasted like this recipe sounded it would. I added a touch too much jelly so instead of a cheeseball, I put it into a ceramic dish and baked it until bubbly- just delish! Also, used some homemade pineapple jalapeno jelly instead of peach. Yum!
16

ounces cream cheese, softened
1⁄3 cup hot pepper peach jelly (Robert Rothchild Farm brand is awesome)

1

tablespoon onion, minced

1

tablespoon jalapeno, minced

4

ounces monterey jack cheese, shredded
Combine cream cheese, preserves, onion and jalapeno together until creamy.
Chill for 1 hour.
Roll into a ball and cover with Monterey Jack Cheese.
Place on decorative plate and serve with assorted crackers.