Hot Pepper Onion Sauce Belizean-Style
COOKGIRl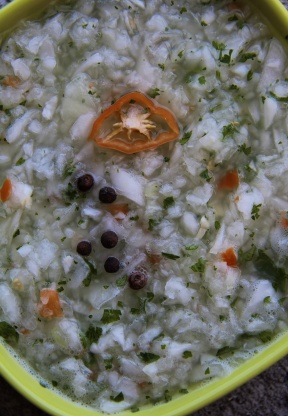 From the cookbook 'Flavors of Belize'. This is spicy good! Note: the salsa/sauce is on the liquid-y side.
Note: The allspice is added for flavoring but is not meant to be eaten-it's too strongly flavored. Remind everyone not to eat the whole allspice.
Combine all ingredients in non-reactive bowl. Marinate at least 2 hours or overnight.
Alternatively, you can use a food processor to prepare this recipe. Place all ingredients *except* for the whole allspice in food processor and blend. Now stir in the allspice.
Servings are estimated.