Nif_H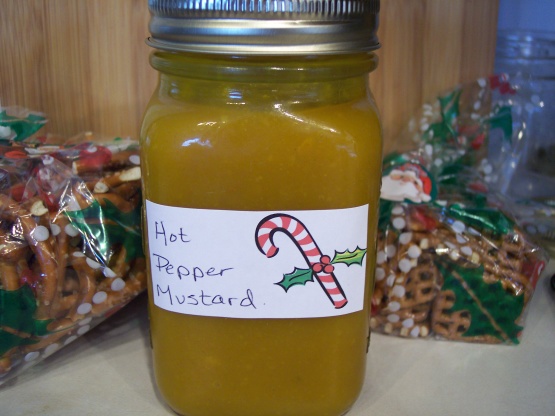 This is my version of a recipe that was in the cookbook I received from my cookbook swap partner, Aunt Paula. It is hot, spicy and sweet. I hope you enjoy as much as I do. I am going to use a good bit of this in gift baskets with a bag of pretzels.

Top Review by Lorac
Excellant. A wonderful balance of heat, sweetness and spice. I have never made mustard before, so I made 1/4 of the recipe. I used 1 jalapeno (we are gringos from New England with weak stomachs). After tasting the mixture, I decided to add the cooked jalapeno pieces. At first, I was surprised by shiny color and sticky texture until I remembered a gourmet mustard I had received as part of a gift basket. I am going to make this for Xmas gifts, the unique flavor and texture makes this mustard very special. (One note of caution - slowly bring the mixture to a boil then remove the pan from the heat or it will be too thick.)
Wash peppers and place in blender with vinegar.
Blend until peppers are ground fine.
In a saucepan, combine pepper/vinegar combination with salt and water.
Cook until peppers are tender.
Strain through cheesecloth and return liquid to large boiler.
In a mixing bowl, combine sugar, flour, turmeric, dry mustard and mustard.
Stir well, making a paste.
Add to boiler and cook over low heat until everything is blended well.
Slowly bring up to a boil, stirring constantly.
It will stick if it is not stirred constantly.
It will thicken as soon as it gets to a boil.
Turn off and dip into prepared jars.
Be sure to wipe rim of jars completely clean with warm towel and place preheated lids on jars and tighten rings.
I use the inversion method of sealing the lids which is to turn upside down for 5 minutes.
Many think this is unsafe, so there is no harm in processing in a water bath for 5 to 10 minutes if it will make you feel a little more comfortable.
Turn upright after 5 minutes and allow to cool completely before moving.