Doods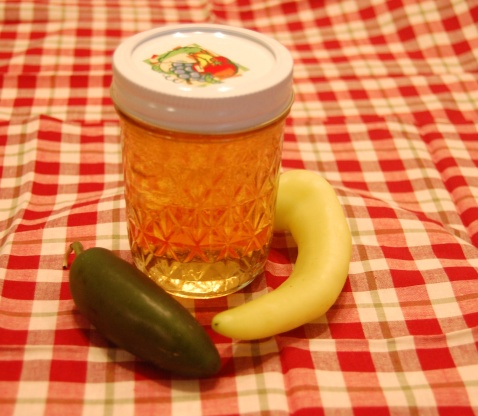 I was given a jar of this jelly by a friend and had to have the recipe. It is the best pepper jelly I have ever tried. The apple juice gives it a beautiful color and adds to the wonderful taste. If you love pepper jelly, trying this recipe is a must. I use 3 jalapeno peppers when I make this jelly.

This the best pepper jelly I have ever made and I've made many. Love it and my family and friends all ask for it.
414.03

ml apple juice

236.59

ml white vinegar

2-4

hot peppers, halved, with seeds included

1182.95

ml sugar

85.04

g liquid Certo
Combine apple juice, vinegar and peppers in a pan and bring to a boil. Reduce heat and simmer uncovered for 10 minutes.
Strain mixture to remove all of the liquid. Measure 2 cups of liquid and set aside. (If your liquid does not quite make 2 cups, add more apple juice to get the full 2 cups.) Discard pulp.
In a large heavy saucepan, combine the 2 cups of liquid and the sugar. Bring to a full rolling boil over high heat, stirring constantly. Quickly stir in pectin. Return to a full boil and boil for 1 minute, stirring constantly. Remove from heat.
Ladle into sterlilized jars and process in hot water bath for 5 minutes. Enjoy!