Hot Pepper Butter (Mustard) for Canning
Bobby H.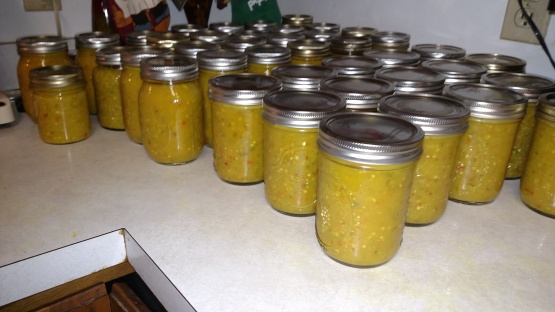 Awesome Mustard for anything from pretzels, sandwiches, or glazes on hams. I add more peppers than in the recipe for a hotter butter (approx 60 ranging med-large). Also I am trying other peppers as well, habenero, maybe only 10-12...I'll have to let you know how it works :) You will not be disappointed! I have sold the canned product to many family and friends and they can only say this is the best! Hope you enjoy!!

Just finished making a batch - made 8 full pints perfectly (5 pints & 6 1/2 pints). Used 4 cups of sugar & mixed end-of-garden peppers - red jalapeno, serrano, cayenne, red bananas & fish peppers picked today before our first frost.
Whooowee - tangy, sweet & spicy all at once! Beautiful too with the red flecks in the yellow base. Thank you so much for posting this delicious recipe. DF had come down with about 2 T of a mustard based sauce with flecks of green jalapeno init - similar taste & texture - I was stumped about the thickener until I found your recipe. She couldn't get the recipe from the fellow who was selling his wife's version. Was a little concerned about the flour but with all the sugar & vinegar (& 30 reviewers who all seemed to do well) I decided to go for it. Will be putting this in Christmas baskets for those who have been nice... mighty nice. Thanks for the keeper CrazyCyndi! ****update - on my third batch since initial review 12/12/09! Crack mustard for sure & very flexible - this batch has 1/2 purchased jalapenos & the rest of my fish, cayenne, giant marconi & a few small carefully deseeded/depithed red Congo Trinidads. The green jalapenos makes the mustard yellow a bit less bright but not unattractive - especially after it is tasted. Thanks again, CrazyCyndi!****

Addendum - I use the peppers & seeds - 4 cups finely chopped peppers. I also start with the sugar, salt, vinegar & peppers which I bring to a simmer for 5 minutes. Then I add the mustard & the water/flour premixed slurry with an additional 1/2 cup of water. Cook until thickened & then can in sterilized hot jars as direcred. This stuff is MARVELLOUS! I am making CASES of pints because of the begging (folks actually bring their jars back to be able to get more of this stuff LOL!)! Crack mustard is right!
Seed and chop peppers. (I use a food processor to chop the peppers tiny).
Mix everything together. Boil for 5 minutes !Stirring Constantly! or until desired thickness.
Ladle into hot, sterilized jars. Cap with hot lid and of course the ring and process in hot water bath for 10 minutes.
Enjoy! (if not selling or giving away you may want to can in quart jars -- this doesn't last long! :).