Hot Pepper and Garlic Shrimp
Bergy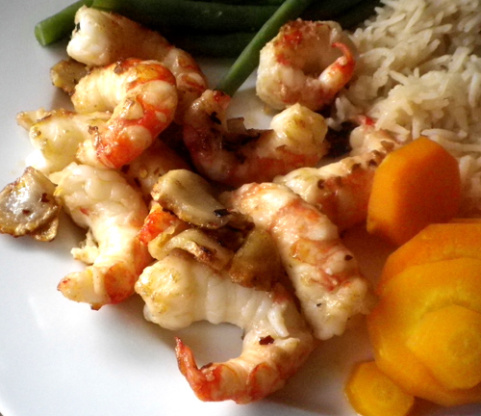 This recipe comes from Epicurious and I have not tried it yet. I'm posting it so I can have it readily accessible at a later date. If you try it I certainly hope you like it.

Top Review by Bergy
This recipe is exactly how I like my prawns -bold garlic, bit of heat and a touch of lemon. cut the olive oil back to 1 tbsp. Thanks Luby this will be repeated many times. 1 Sept 2011 Took a while but I made these again this time using West Coast Wild Spot Prawns - Heavenly! Great recipe
Pat shrimp dry.
Heat oil in a large heavy skillet over moderately low heat and add garlic, red pepper flakes and sea salt.
Cook until garlic is pale golden, about 4 to 5 minutes.
Increase heat to moderately high and add shrimp.
Saute' shrimp turning occasionally, about 3 to 4 minutes.
Remove from heat and stir in lemon juice and transfer to a serving bowl.