Hot Pastrami Baked Sandwiches
This is actually a loaf of bread baked with the sandwhich ingredients inside. Be sure to bake this long enough because it will turn out soggy if not. Preperation time does not include thawing and rising.
Directions
Let the dough thaw and rise according to package directions.(usually in a loaf pan sprayed with cooking spray).
Once it has risen slice the dough down the center long ways about one inch into dough.
Spread the dough apart using your fingers as if you were "parting the waters". Be careful not to go all the way to the bottom of the pan.
In the opening spread the mustard, then lay the pastrami inside going as close to each end as possible. Place the cheese slices over the pastrami pressing everything down.
Pull the dough up and over the filling pinching and twisting to make sure the dough is sealed.
Bake at 350 for at least 45 minutes or up to 1 hour.
Let cool for 5 minutes and remove onto a cutting board. Using a serrated knife slice pieces about 2 inches thick.
Reviews
Most Helpful
Even though mine did not come out quite as pretty as all the others, I still have to give this 2 thumbs up for flavor! I've never worked with frozen bread dough before. I also would never think to pair pastrami with pepper jack cheese, but it worked out great. I ended up not using the entire 8 oz. of pastrami, as it really was a lot (I probably used about 3/4 of it). I used a spicy brown jalapeno mustard for some real kick. This tastes absolutely wonderful when it's warm out of the oven, and even not so bad when it's left-over. Thanks for sharing!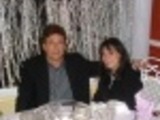 Very tasty. Used Softest Ever Bread Machine Bread and set my bread maker on dough cycle. You need to make sure after you 'part the waters' (I liked that), you push the pastrami out towards the sides, mine ended up in a strip vertically down instead of horizontally spread like a sandwich. I did half with the pepper jack and half with baby swiss. I liked the baby swiss better because I'm not a spice person. Will make again - very easy and a fun eat. Thanks Jean!

This was fun & YUMMY! The whole family loved it.
I followed the recipe as written.I loved all the combined flavors. I did stuff it about 90 minutes prior to baking (out of necessity) and it turned out great. It got a nice & crunchy and brown. I sprayed the surface of the unbaked bread with nonstick spray before baking. Thank you for posting. I served with a Ceasar salad.