Hot Orange Pudding (Hsi-Mi-Chu-Keng)
Boomette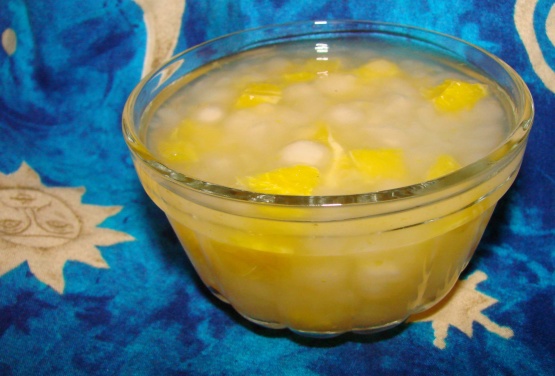 Posted for the World Tour 2005 RecipeZaar event. I haven't tried this recipe yet. The source is the Time Life Foods of the World Series "The Cooking of China". Please note that the recipe requires advance preparation of at least 4 hours.
I used large pearl tapioca. And I used splenda instead of sugar. It worked out great. It's thick just perfect. It's just the taste that might need some changes. Maybe to add a little bit of orange juice would be great. But that's a sweet dessert with low-cal (if using splenda). Thanks PanNan. Made for Photo tag.
Cover the tapioca with 1/2 cup of cold water in a small bowl. Let soak at least 4 hours.
Peel the orange and remove the white membrane. Cut the orange meat into small pieces.
Combine 2 cups cold water with sugar in a sauce pan. Bring to a boil over high heat, and stir until the sugar is dissolved.
Drain the tapioca and slowly pour it into the saucepan, stirring constantly. Cook over medium heat, continually stirring, for 2 minutes, or until the pudding thickens.
Stir in the orange pieces, and bring to a boil again.
Serve hot.