BecR2400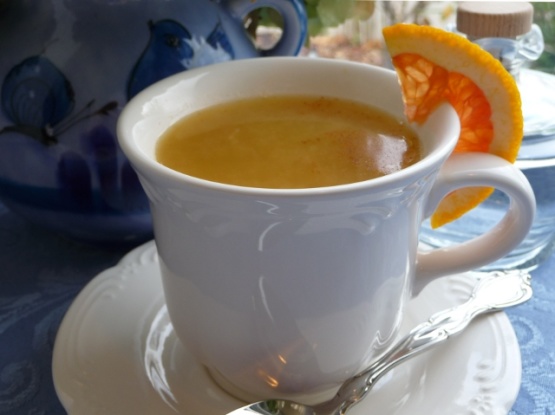 I received this in an e-mail from Florida's Natural Brand orange juice. It sounds absolutely delicious and comforting. I tried doing a search for something like this in an attempt to not duplicate it, but literally thousands of recipes showed up, because so many of them had all or most or some of the words in the recipe. So, for safekeeping, and to share with the rest of 'Zaar, I'm posting this Hot Orange Juice Sipper here. It sounds very reminiscent to an orange spice type tea. I don't know if I'll ever be able to try it personally though, depends on how instant tea powder treats my digestive disorder, but I hope someone tries it and lets me know how it turns out! :) Copied almost exactly from the Florida's Natural website. Other orange juice can be used, but since it came from a specific brand's website, Florida's Natural is suggested. Prep and cook times are estimates.

This tastes like Christmas Holidays. Really nice warm drink for a fall/winter day. I used Tropicana no pulp orange juice, white sugar, whole slightly crushed cloves and regular tea (Lipton Yellow Label). I simmered the water, spices and tea for a minute. Next time I will simmer for 1 1/2 minutes and then add the orange juice. I will probably make this again.
Add the sugar, cloves, cinnamon, and instant tea to boiling water. Mix. Add orange juice and mix well. Serve hot, garnished with round orange slices. Serves 6.