Rita1652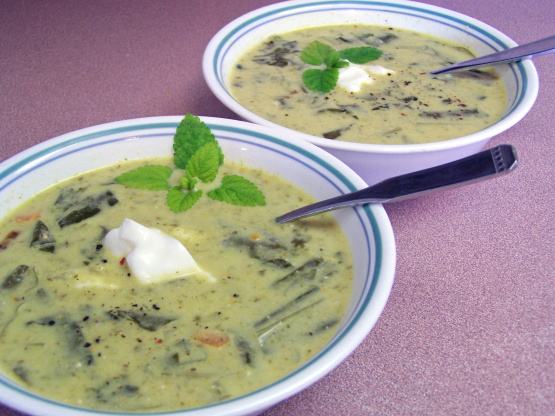 The tangy tartness of sorrel is nicely balanced with the cream to make a refreshing soup served cold for those hot days of summer but just as good served hot. Great to put into a thermos for a summer picnic.

This soup is creamy in texture and buttery in flavor,and it looks beautiful if you garnish the soup with homemade croutons and chives.
Melt butter over moderate heat in a medium stockpot or Enamel coated Dutch oven (not cast iron).
Cook onion, potato, salt and pepper until soft, about 10 minutes add garlic cook 3 more minutes.
Stir in sorrel and cook over moderate heat, uncovered, about 5 minutes.
Stirring occasionally to evenly cook.
Add half and half, water or stock, and nutmeg. Bring to a low boil and remove from heat. Puree in a blender until smooth. Stir in lemon juice, add salt and pepper to taste, and refrigerate a minimum of 4 hours.
Serve ice cold bowls garnished with your choices.