Hot or Cold Sesame Asparagus
JustJanS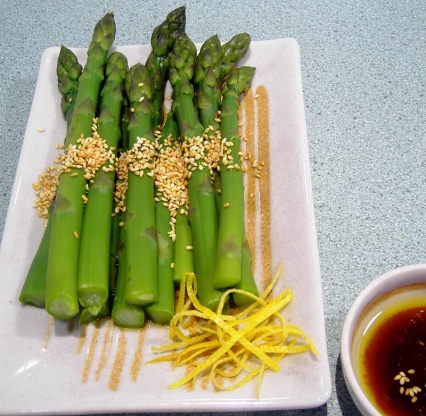 I love this dish because of it's versatility. Served hot it,s a side dish, cold it becomes a salad. Either way, it's delicious.

These were fabulous!! The flavors blended so nicely together and were a nice change to my standard roasted asparagus that I usually prepare. I halved the recipe to suit for our size of family. I used half of the olive oil and I added some fresh gound pepper at the end. Thanks you so for posting this, as I will be making them this way from now on!!
Cook asparagus in a pot of boiling salted water until almost crisp tender.
If serving chilled, cook until crisp tender.
Drain.
Place in a bowl of ice water to stop the cooking process.
Drain, pat dry, cover and refrigerate until ready to use.
Combine sesame oil and butter in a large skillet over medium heat.
Add asparagus.
Saute about 2 minutes until crisp tender.
Mix lemon juice with soy sauce.
If serving cold, mix 2 T olive oil, sesame oil, lemon juice and soy sauce.
Do not cook further.
Toss with asparagus to coat.
Transfer to a serving plate and sprinkle with toasted sesame seeds.