Annacia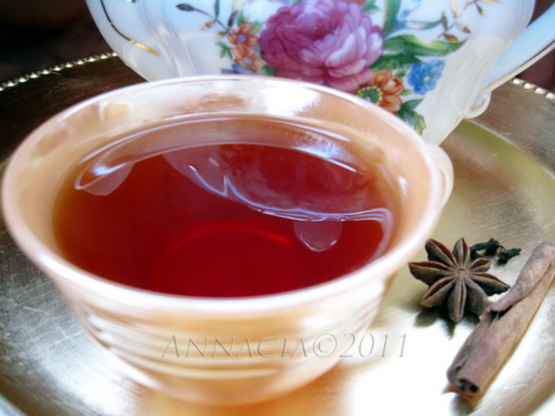 This tea is perfect on a cold winter night and a nice alternative to hot chocolate or alcoholic drinks. Adapted from the Heart & Stroke Foundation.

This is a light flavoured lovely tea. I liked the accent of vanilla for which I used halal vanilla paste, with flecks of vanilla bean. Following Annacia's lead I made ours with rooibus & honey bush tea bags from Traditional Medicinals and followed the rest.
Place a small amount of boiling water in the tea pot to warm it up. Discard the water.
Add tea bags, cinnamon stick, cloves and star anise to the tea pot and add the 4 cups of boiling water.
Let steep for 3 to 5 minutes and remove the teabags.
Let steep for 2 minutes longer and serve immediately.
Sit back and enjoy!