Hot Moroccan Chicken Salad
Debi9400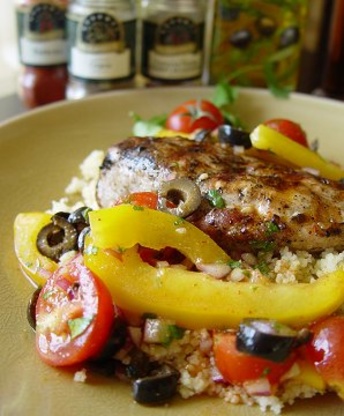 This easy grilled chicken is combined with a colorful tomatoes, peppers and olives, and drizzled with a spicy cumin, paprika and ground red pepper dressing. Best served on a bed of fluffy couscous to soak up all the fabulous flavors.

wow!! any chance i get to use cumin other than in chilli, i will try! BF made this and it was sooo yummy. used only 1t of dried cilantro as neither of us care for it. used red bell pepper instead of yellow also used no tomatoes as we were all out. doubled the onions. verrry great taste!!
Prepare grill or preheat broiler and broiler pan.
Bring water to boil in saucepan.
Stir in couscous and ½ teaspoon salt.
Remove from heat and cover.
Rub oil over chicken.
Mix garlic with ½ teaspoon salt and press with side of knife to form a paste.
Set aside ½ teaspoon paste in a large bowl for dressing.
Rub remaining paste over chicken.
Grill chicken until cooked through, about 6-7 minutes.
DRESSING: Combine remaining garlic paste and all ingredients except oil and red onion in a bowl.
Gradually whisk in oil, and then stir in onion.
Toss dressing in yellow pepper, tomatoes and olives.
Fluff couscous with fork and spoon onto serving plates.
Arrange grilled chicken on couscous; spoon vegetables and dressing around chicken.