Leslie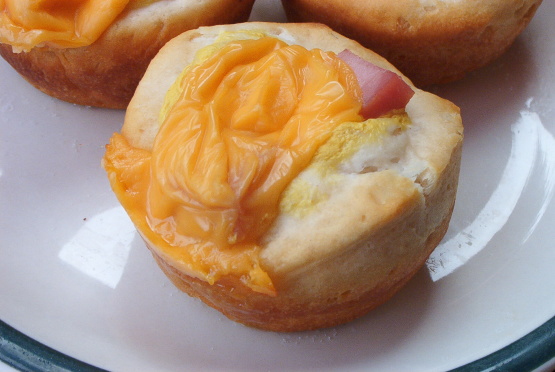 This is a really tasty snack, called molten blobs to make it more interesting to my 5 year old. Super for Halloween or kids parties, and also great to pop in the kids lunches! Hope you enjoy! From PIL Halloween Party Recipes

When I made these, the kitchen pixies had eaten all the leftover ham I was counting on, so I used chopped hotdogs instead. Very yummy. I can't wait to try them as written.
Pre-heat oven to 400 degrees.
Coat muffin tins with non-stick cooking spray.
Place a biscuit in each of 10 sections.
In a small bowl, combine mayo and mustard and stir until well blended.
Using thumbs, press down center to make deep indentations in each biscuit.
Spoon equal amounts of the mayo mixture in each, about 1 tsp each.
Top with ham cubes, then with cheddar cubes.
Place muffin tin on foil-lined rack in oven.
Bake until biscuits are golden and puffed, and overflowing with cheese, or about 10-12 minutes.
Remove from oven and let stand 3 minutes before removing from tins.
Serve while hot.