Annacia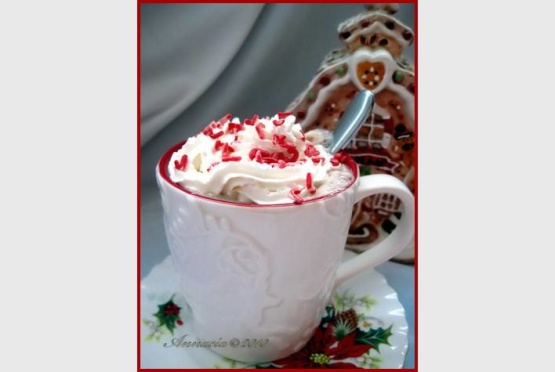 I love the combination of mint and cocoa. When I saw a chai recipe with cocoa in it, I had the idea of just combining mint tea with cocoa and ended up with this. Instead of peppermint schnapps you can use mint extract, but as I don't have mint extract I don't know how much of it you need. If you don't want the alcohol, just boil the cocoa for one more minute after adding the schnapps.

Now this is the way to start off the day, lol. I made this for myself and DS this morning. Used bittersweet chocolate and subbed in peppermint extract for the alcohol in his and Lipton herbal peppermint tea. It snowed all night and the only thing missing with the cocoa this morning was a fireplace to sit by. This is wonderful Mis. :D
In a saucepan, combine water, cocoa powder, mint sprigs or teabag, honey and dark chocolate.
Bring to a boil and simmer for about 5 minutes.
Stir in peppermint schnaps (or extract, if using).
Strain into a mug.
Enjoy!