katii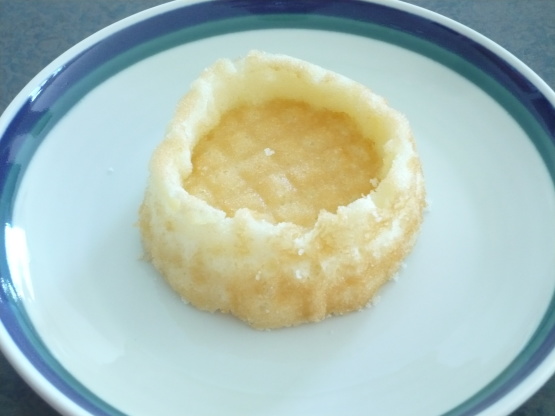 A nice light cake with very little fat. Good with a broiled coconut icing.

I'm a strange one, I like the early morning best. So it's now 4:18 AM and I have just finished this beautiful, pale golden hot milk sponge. It is absolutely as light as you say it is, especially compared with other recipes I've seen on Rzaar - fluffy and golden, and so delicate and lovely a sponge (my first ever!). I baked mine in a 22 cm round springform pan, and followed the directions exactly, except that I went a bit heavy on the vanilla and light on the sugar - personal taste only. This cake will register as a recipe on my favourite list, I've fallen in love with it. :) It helps that I've always loved milk, too. Thank you for this recipe! It goes without saying that I certainly intend to make this again, very soon :)
Preheat oven to 325 degrees F.
In mixing bowl, beat eggs.
Add sugar and vanilla.
Beat until light.
In a separate bowl, combine flour, baking powder and salt.
Fold dry ingredients into egg mixture.
In a small saucepan, bring milk and margarine to a boil.
Slowly add milk mixture to batter, stirring carefully.
Pour into greased and floured cake pan (7 x 12 inch or 9 x 9 inch).
Bake 30-35 minutes.
I often make this into a lemony cake. I add the zest of one lemon to the cake batter, and use the juice of the lemon with icing sugar to make a glaze.