Dimpi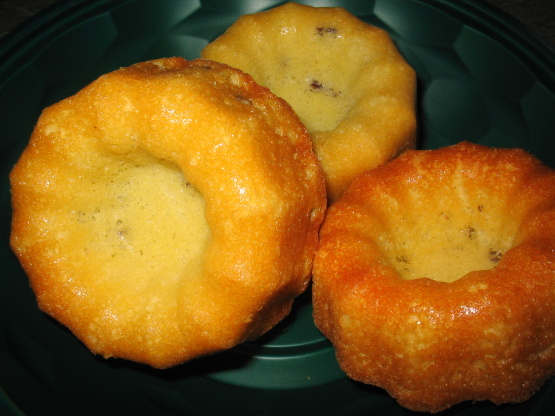 An old fashioned cake, that's been around for years. So easy and so good.

I halved the recipe to make a dozen cupcakes for Easter (which was plenty of batter - actually filled one small heart pan too) and these were great! very easy due to the mixing method and the cupcakes had a great texture - I had the one that was left over from Easter dinner, on Tuesday evening and it was still perfectly moist and yummy. Next time I will reduce the sugar just a little; I did keep the vanilla the same and enjoyed the flavor. I will definitely make this again, and I think the thin batter will work well in really detailed pans so I am looking forward to trying that. Edit: I've just realised I read teaspoons of butter as Tablespoons! I'll have to try the real version now.
Preheat oven to 350°F.
Beat eggs on high until thick, (5 minutes).
Gradually add sugar and beat until light and fluffy.
Combine flour and baking powder.
Add to batter and beat on low until smooth.
Add vanilla.
In saucepan, heat milk and butter just until the butter melts.
Add to batter, beat until combined.
Pour into a well-greased 13x9 pan.
Bake for 35 minutes.
Test for doneness.