Hot Mexican Spinach Queso Dip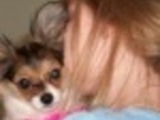 Straight from the oven, this dip is thin and creamy. It is delicious served over pasta. Let it cool a little and it firms up into a fantastic dips for fresh veggies or tortilla chips.
Directions
Preheat oven to 400 degrees.
In a medium bowl, add all the above ingredients and mix well.
Pour into a shallow ovenproof baking dish, bake mixture for 20 minutes or until bubbly.
Reviews
Most Helpful
I've made this many times, and it's always a success. I've used a version of the recipe that I got off another site, that calls for a box of frozen chopped spinach, thawed and squeezed dry, and red wine vinegar, and I usually substitute sharp cheddar.
Huge hit at my Superbowl Party. I had to forward the link to those who came. I just loved it! Thought the vinegar would be weird - and I love vinegar, but yum! Will definitely make again!
Nice dip. I omitted the vinegar, used a frozen box of spinach, sliced olives instead of chopped, and added a little salt and pepper. I had to use half mozzarella and half cheddar only because I realized I bought the wrong cheese. It still came out really good, and I will definitely be making it again when I have a taste for something different than the usual dip.