Hot Maryland Style Crab Spread
Sarah L.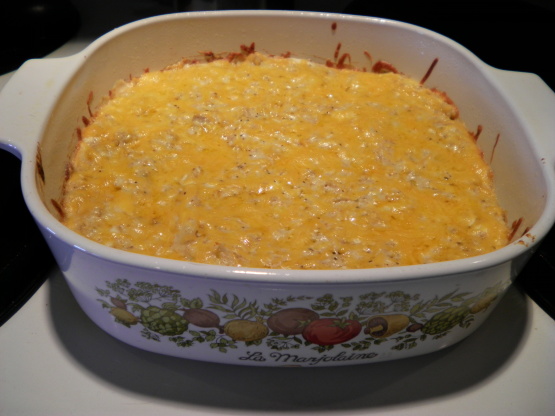 I finally found this recipe( cleaned out ever recipe box), so I am posting it here for safekeeping. Years ago I had this spread at a friends home in Maryland. Got the recipe put it away and forgot where it was. I reduce the fat by using fat-free cream cheese and sour cream.

This recipe was really great! I've been looking for a good authentic MD style crab dip since I moved from Baltimore to Tampa and this is very good. I think I might cut down on the Old Bay VERY slightly but besides that...YUM! Thanks for making an ex-Baltimoron happy :)
Preheat oven to 325°F.
Lightly grease a 1-quart baking dish.
In a 2-quart bowl, blend together cream cheese, sour cream, mayonnaise, lemon juice, dry mustard and hot sauce.
Stir in crab meat, Old Bay seasonings, and 1/4 cup cheddar cheese.
Transfer to greased baking dish. Top with remaining 1/4 cup cheddar cheese.
Bake in preheated oven 30 minutes, or until bubbly and lightly browned.