jenne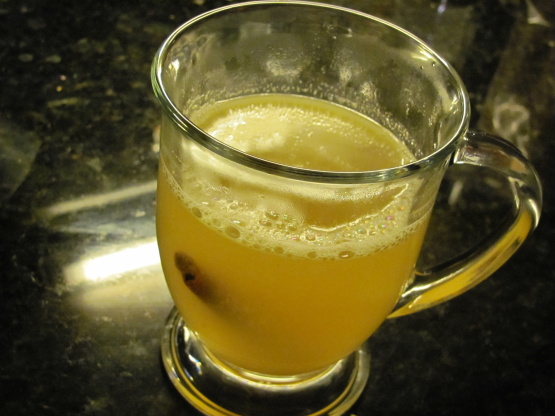 This is a recipe my family uses from time to time when in dire need of comfort from a rotten cold. Helps you sleep, the rum settles your aches and pains, and the lemon and spices help open up breathing passages.

I made this a couple of days ago for myself & my husband. We are suffering from a head cold and are so congested. Your recipe came to the rescue. This not only made us feel better but it tasted great. The only changes I made was I didn't have fresh nutmeg or ginger so I used a dash of ground nutmeg and 1/8 tsp. of ground ginger. Thanks so much for posting we will turn to this whenever we are under the weather, thanks kitchendame!
In a small pot over medium heat place all ingredients except rum. Simmer for about 5 minutes.
In a large mug pour about 1-2 fingers of dark rum. Pour contents of small pot through a strainer into the mug.
Sip while hot.
Go straight to bed.