Hot Indian Baked Potatoes
Prep 3 mins
Cook 1 hr 10 mins

A new spin on an old fave!
Directions
Combine the first 4 ingredients in a small bowl. and mix well.
Place the potatoes in a baking dish/tray and add the spice mix and toss to coat evenly.
Bake at 180oC (360oF) for 65-75 minutes.
Reviews
Most Helpful
This is definitely a new spin for sure! I used baby ruby gold potatoes, which crisped up nicely. The skin was crispy, but the inside was soft and fluffy. I didn't really notice the ginger, though. The taste of the cayenne was most prominent at the finish, and I would have liked the potatoes to have absorbed more of the wonderful flavors. A nice side dish for any meal, Indian or otherwise. Made for ZWT 8.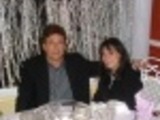 These hot and spicy potatoes were awesome cookingpompom. My dh & I enjoyed them very much. They were crisp on the outside and soft and tender on the inside with a lovely blast of heat. Quick and really easy to make. We will be enjoying these again. Made for The Fearless Red Dragons - ZWT8 - India