Hot German Potato Salad (Crock Pot)
Mercy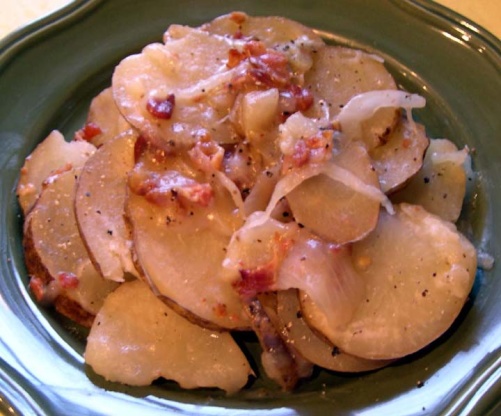 I had this at a friends house recently and it was so good, I had to get the recipe from her. She served this with grilled bratwurst and it made for such a nice meal.

I have used this recipe before. This time I used a 3 lb bag of red skinned potatoes and tripled everything else. Once for a church potluck I used a 5 lb bag if red skinned potatoes and then<br/>I multiplied the rest of the ingredients by 5. Everyone loved it and asked for my recipe. I slice the potatoes very thin and then it does not take near as long to cook about 5 hours on low.
Mix potatoes and onion in crock pot; mix remaining ingredients except bacon; pour into crock pot.
Cover and cook on low setting 8 to 10 hrs or until potatoes are tender.
Stir in bacon.
Serve.