Hot Fudge Pudding Cake (Vegan)
Xanthia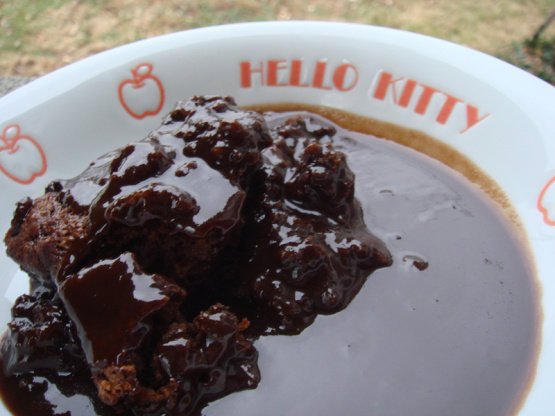 Very rich--for me, this is for when I am really craving chocolate. This is modified from a Hershey's cookbook.

Wow, this is amazingly rich and delicious! We ate it warm (with whipped topping) and liked it very much, but ate some cold the next day and thought it was phenomenal, so I'll probably try to make it ahead in the future. I love that something made with kitchen staples can be so special. Thanks for the recipe!
Preheat oven to 350°F.
In medium mixing bowl, combine 3/4 cup sugar, flour, 3 Tbsp cocoa, baking powder, and salt.
Blend in the milk, vanilla, and margarine; beat until smooth.
Spread batter into a square pan 8x8x2 or 9x9x2. This cake does not rise, but it bubbles, so be sure your pan height is tall enough or you will have chocolate burning all over your oven.
In a separate small bowl, mix remaining 1/2 cup sugar, brown sugar, and remaining 4 Tbsp cocoa; sprinkle mixture evenly over batter.
Pour hot water over the top; do not stir.
Bake for 40 minutes or until center is almost set. (It will look kind of like a cobbler).
Let stand 15 minutes; spoon into bowls, spooning sauce from bottom of pan over the top.