MA HIKER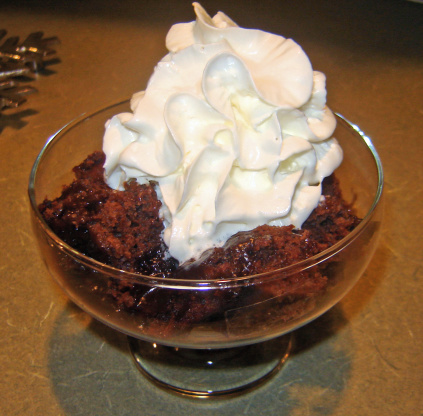 I followed the directions and got a springy cake with pudding, indeed, at the bottom. But, the taste just was't for us. It was bitter, as if there was too little granulated sugar for the 6 Tablespoons of Hershey's Cocoa we used. I am so disappointed as I've used numerous recipes from the website and they all make me feel like a champion baker. With this, I am simply stumped and may try it again but with 4 T of chocolate rather than 6 and more granulated sugar. But, I am not skilled enough as an improvisor, so, I'm just stumped and will not use the recipe as printed again.
Combine flour, brown sugar, 3 tablespoons cocoa, baking powder and salt in a medium bowl.
Add milk, oil and vanilla and mix well.
Spoon batter into greased 8 or 9 inch square baking pan.
Mix remaining cocoa and granulated sugar.
Sprinkle over cake batter.
Pour boiling water over batter.
Bake at 350 degrees for about 30 minutes, until cake springs back when touched.
Let cool on wire rack 5-10 minues.
Serve warm.