Hot Fudge Peanut Butter Pie
anniek36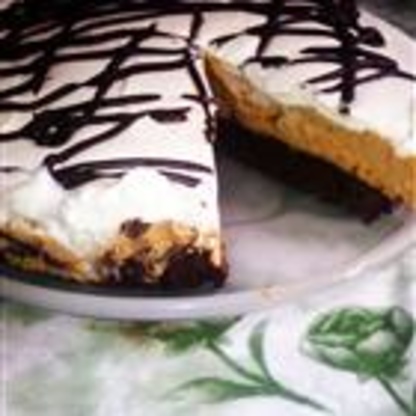 This is the holiday (Decadent Peanut Butter Pie) recipe from the Jif website. I haven't tried it yet, but I wanted to transfer it to my PDA.
1

chocolate cookie pie crust (prepared or your own)

236.59

ml smooth peanut butter

226.79

g cream cheese, that has been allowed to soften

118.29

ml sugar

340.19

g container whipped topping

333.10

g jar hot fudge
Save 1 1/2 cups of whipped topping for the top of the pie.
Save 2 Tablespoons each of Peanut Butter and Hot Fudge for the decorative (and tasty) drizzle on top of the pie.
Once the cream cheese has softened to room temperature, in a bowl large enough for the ingredients, mix the Peanut Butter, Cream Cheese, and Sugar.
Then fold in 3 cups Whipped Topping.
Put the mixture into the Chocolate Pie Crust and spread it even to the edges.
Using a microwave safe dish or cup, warm all but the 2 Tablespoons of Hot Fudge that you set aside in the microwave for 1 minute.
Stir to evenly distribute the heat throughout the Hot Fudge.
Cover the Peanut Butter mixture in the pie crust with the Hot Fudge.
Refrigerate pie until it is time for dessert.
Prior to pesentation, spread the 1 1/2 cups of topping over the top of the pie.
Then, the drizzle.
Put the Hot Fudge and Peanut Butter that you saved earlier, into two separate sandwich bags.
Knead both to prepare for the drizzling.
Draw straight lines across the pie with the Peanut Butter.
Then, draw perpendicular lines across the pie wit the Hot Fudge.
Enjoy!